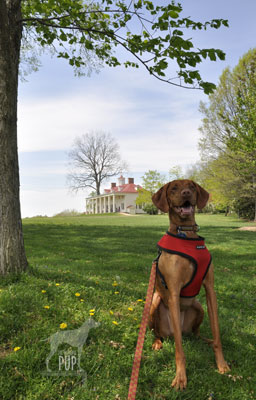 "First in war, first in peace and first in the hearts of his countrymen…."   
When it comes to being truly intrepid, one has to look no further than America's first president, George Washington. The above words were spoken by Henry "Light-Horse Harry" Lee in 1799 in a public eulogy upon Washington's untimely death and have aptly endured for generations.
With George Washington's 280th birthday approaching on February 22, 2012, Team Tavish figured that Washington's Mount Vernon Estate and Gardens would be a fitting topic for the Intrepid Pup's inaugural blog post.
The extensive grounds are indeed dog-friendly (see "Dogging the Details" below), perhaps in a nod to Washington's own affinity for dogs. In a tidbit of canine trivia, Washington is credited as being the father of the American Foxhound breed. He imported several hounds from England in 1770 and received more from France's Marquis de Lafayette in 1785. According to the American Kennel Club, more than 30 hounds are referenced in Washington's records, and it isn't difficult to imagine them accompanying Washington as he surveyed, hunted, and managed the 8,000+ acres that once constituted the full extent of his Mount Vernon estate.
Tavish has visited on multiple occasions. He has had to leave touring the meticulously-restored mansion and experiencing the impressive educational complex—which opened in 2006 and comprehensively addresses various aspects of Washington's public and private persona and legacy through immersive presentations, interpretive exhibitions, and more than 1,000 artifacts—to Team Tavish. But if you think there might not be much else for a dog to do, you'd be wrong. Consider sitting in one of the Windsor chairs on the back porch and admiring the sweeping view of the Potomac River. Explore the treading barn at the Pioneer Farm site and sniff the blooms grown from heirloom seeds in the ever-changing gardens. Walk solemnly past Washington's tomb and the slave burial ground memorial. Greet visitors arriving by boat down at the dock. Peer through the fences and snuffle at any number of heritage breed animals that include hogs, oxen, and even Liberty (the National Thanksgiving Day turkey officially pardoned by President Obama on November 23, 2011, living out its days at Mount Vernon)! And if it's the holiday season, follow in Tavish's paw prints and be sure to check out the live camel. It's true. During the Christmas season of 1787, George Washington paid 18 shillings for the novelty of temporarily boarding a camel to entertain his holiday guests. Mount Vernon keeps with the tradition by having a "Christmas Camel" on site during its annual Christmas at Mount Vernon festivities.

Dogging the Details
38°42′29.65″ N,  77°05′07.67″ W
George Washington's Mount Vernon Estate & Gardens, Alexandria, Virginia
Bring your annual pass, dog, and a leash! Mount Vernon earns a "2" on the Intrepid Pup Wag-A-Meter for generously giving annual pass holders dog-walking rights on the grounds during regular daytime visitation hours. If you plan to visit Mount Vernon more than once in any given year, then the annual pass is well worth it.  The usual rules apply:  keep your dog on a leash and be sure to clean up. Dogs aren't allowed in the mansion, outbuildings, Ford Orientation Center, or Donald W. Reynolds Museum and Education Center, but with ~500 acres of grounds, gardens, and woodland trails, there's plenty outside to explore. Mount Vernon has a few strategically-placed water bowls on the grounds for its canine friends, but if you're planning an extended visit, bring along extra water for your dog. Mount Vernon attracts approximately 1 million visitors annually. On President's Day, admission to Mount Vernon is free, but be forewarned that it's also one of the Estate's busiest days of the year!