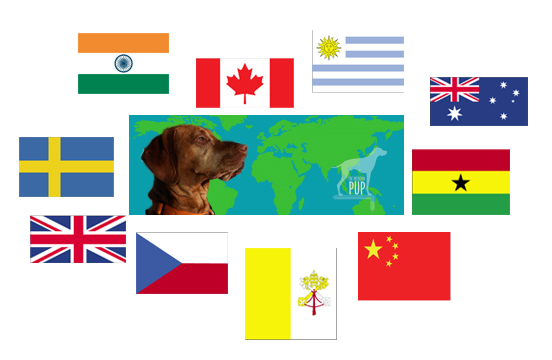 With much public  attention focused on what happens on Capitol Hill it's easy to overlook that Washington, DC has a vibrant international scene.  Amid the smörgåsbord of national associations, government agencies and multinational corporations are an astounding 176 official diplomatic missions. They're all within northwest DC. While a few outliers are in Cathedral Heights, Penn Quarter or the U Street corridor, the vast majority are clustered on Embassy Row and in the Cleveland Park, Dupont Circle, Foggy Bottom, Georgetown, and Kalorama neighborhoods. The architecture of the chanceries and ambassadorial residences are as varied as the countries themselves. And while you might think that embassies and their staffs are cloistered entities, nothing could be further from the truth.
Over the years the diplomatic community has developed creative and far-reaching ties with its host city. Many embassies sponsor or coordinate events with DC museums and institutions like the Kennedy Center for the Performing Arts. The Washington Performing Arts Society collaborates with 52 embassies annually as part of its Embassy Adoption Program, connecting 1,500 DC middle schoolers with embassy personnel for curriculum on world cultures. Ambassadors regularly entertain at their personal residences, and within several chanceries are public exhibition galleries that orient visitors to a country's history, art and culture. Scan a  DC calendar of events and in any given month you're bound to find an array of embassy-based lectures, film festivals, or national holiday celebrations. There's even a highly-anticipated annual Embassy Chef Challenge.
Perhaps the best way to instant immersion in the DC embassy scene is to partake in Cultural Tourism DC's perennial "Passport DC" celebration. Drawing more than 160,000 visitors throughout the entire month of May are a series of festivals and open houses showcasing the embassies. The true extravaganza is the Around the World Embassy Tour that takes place, rain or shine. Admission is free and no advance reservations are necessary. Participants vary from year to year with consistently more than 40 featured.  As you tour you're apt to take in everything from fashion shows to folk dancing and crafts to cuisine. Highlights from past years' celebrations included seeing at the British Embassy a  place setting from Kate Middleton and Prince William's royal wedding, experiencing a Dvořák concert and Tatras car show at the embassy of the Czech Republic, being drawn into a festive dance demonstration at the embassy of Trinidad and Tobago, tasting Marmite at the Australian embassy, and sampling goulash at the Hungarian embassy.
While you most definitely need to leave your dog at home (repeat, do not bring your dog!) if you're attending this event, there's nothing to say you can't get in the international spirit and re-create the experience by doing a little "globe-trotting" with your pooch later on. Take your cue from the Intrepid Pup, who managed to go spanning the globe without ever leaving the city limits. Here's his whirlwind tour of embassies from six continents that are also representative of the various styles and neighborhoods. Bon voyage!
Dogging the Details

38°54′27.65″N,
77°14′53.5″W
Embassy of Australia, Washington DC

Did you know that Australia is the only country to govern an entire continent? Australia's embassy is on Massachusetts Avenue near Dupont Circle. Embassies often prominently display near their entrances symbolic works of public art by artists from their home countries. Outside the Australian embassy is a bronze by Australian sculptor Thomas Bass (1916-2010). It depicts a stylized version of Australia's coat of arms where a red kangaroo and emu flank a shield that contains the badges of the Commonwealth's six states.

Dogging the Details

37°53′34.2″N, 77°1′6.52″W
Embassy of Canada,
Washington DC

In 1989, the Embassy of Canada moved off Embassy Row to this building designed by Canadian architect Arthur Erickson. It dominates the Pennsylvania Avenue streetscape in the busy, high-profile Penn Quarter neighborhood. It was a cold afternoon in mid January when Tavish visited, so he is wearing a sweater to keep warm.

Dogging the Details

38°56′32.20″N, 77°3′58.90″W
Embassy of the People's Republic of China,
Washington DC

The Embassy of China sits within an enclave of embassies in the Cleveland Park area of Washington, DC. Opened in 2009, this massive limestone building was designed by renowned Chinese American architect I. M. Pei (b. 1917) and constructed by Chinese contractors.

Dogging the Details

38°56′32.30N,
77°4′4.65″W
Embassy of Ghana,
Washington DC

Ghana's embassy shares International Drive with 15 others. As opposed to some embassies that have adapted existing buildings throughout the city for their use, the embassies in this neighborhood were all built intentionally for consular services.

Dogging the Details

38°55′28.26″N,
77°3′58.56″W
Apostolic Nunciature of the Holy See, Washington, DC

You're probably not the only one who can't readily identify the yellow and white flag flying over the entrance to this impressive structure on Embassy Row. It's the flag for Vatican City denoting this building as a nunciature, effectively a Vatican embassy and an administrative center of the Roman Catholic Church in the United States. While the Vatican has had a delegation in Washington, DC since 1893, formal diplomatic relations were not established until 1984, the result of growing friendship between Pope John Paul II and U.S. President Ronald Reagan.

Dogging the Details

38°56′23.10″N,
77°3′16.16″W
Embassy of the Czech Republic, Washington, DC

This compound includes both the ambassador's residence and the chancery, where consulate business is conducted. It's located in the Cleveland Park neighborhood, and the extensive grounds border a section of picturesque Rock Creek Park.

Dogging the Details

38°54′39.6″N,
77°2′49.12″W
Embassy of India,
Washington DC

Hailed as the father of India and a crusader for human rights via non-violent civil disobedience, Mahatma Gandhi (1869-1948) is memorialized in this 9-foot bronze statue by Gautam Pal (b. 1949). Shri Atal Bihari Vajpayee, the Prime Minister of India, dedicated the Gandhi Memorial in front of the Embassy of India during his state visit to the United States in 2000.

Dogging the Details

38°54′4.08″N,
77°3′32.33″W
Embassy of Sweden, Washington, DC

The House of Sweden opened in 2006 on the Georgetown waterfront as a stunning example of contemporary Scandinavian architecture. The House of Sweden contains the embassies for Sweden and Iceland, galleries, and premier event space.

Dogging the Details

38°55′11.36″N,
77°3′41.56″W
Embassy of the United Kingdom, Washington DC

The British Embassy is undoubtedly one of the grand dames of Embassy Row and is the largest of the UK's embassies anywhere in the world. It's also the largest of all the embassies in Washington, DC. The British government has had diplomatic representation in DC since 1791 and was the first to build on Embassy Row; its current embassy dates to the late 1920s/early 1930s. This statue of Winston Churchill (1874-1965) on Massachusetts Avenue in front of the ambassador's majestic Queen Anne-style residence stands with one foot on embassy property and the other on American soil to symbolize Churchill's Anglo-American heritage and honorary U.S. citizenship, as well as the long-standing relationship between the two countries.

Dogging the Details


38°54′5.15″N,
77°2′38.81″W
Embassy of Uruguay, Washington, DC

This is an example of a smaller embassy located in a modern office building in the heart of the Foggy Bottom neighborhood in the nation's capital. It's strategically situated within close proximity to the World Bank, Organization of American States, and the International Monetary Fund. In addition to consular offices, this embassy has space for presenting programs and exhibitions on Uruguayan art and culture.
The Intrepid Pup has also visited the embassies of Austria, Chile, Kingdom of Bahrain, Egypt, Hungary, Indonesia, Israel, Georgia, Greece, Haiti, Kenya, Myanmar, Netherlands, Norway, Peru, Portugal, Singapore, Slovakia, Trinidad and Tobago, and Turkmenistan. You can see these additional photos by locating the embassies on the Intrepid Pup Map!
Prepare to log some serious mileage if you're going embassy-hopping with your dog, and plan accordingly. Keep in mind that you're simply out for a fascinating stroll past some beautiful and culturally significant diplomatic missions—not to create an international incident by romping around on embassy grounds!  Your 'round-the-world tour ranks a "1" on the Intrepid Pup Wag-a-Meter for the ease in being to experience DC's unique international flair.
Save
Save
Save
Save
Save