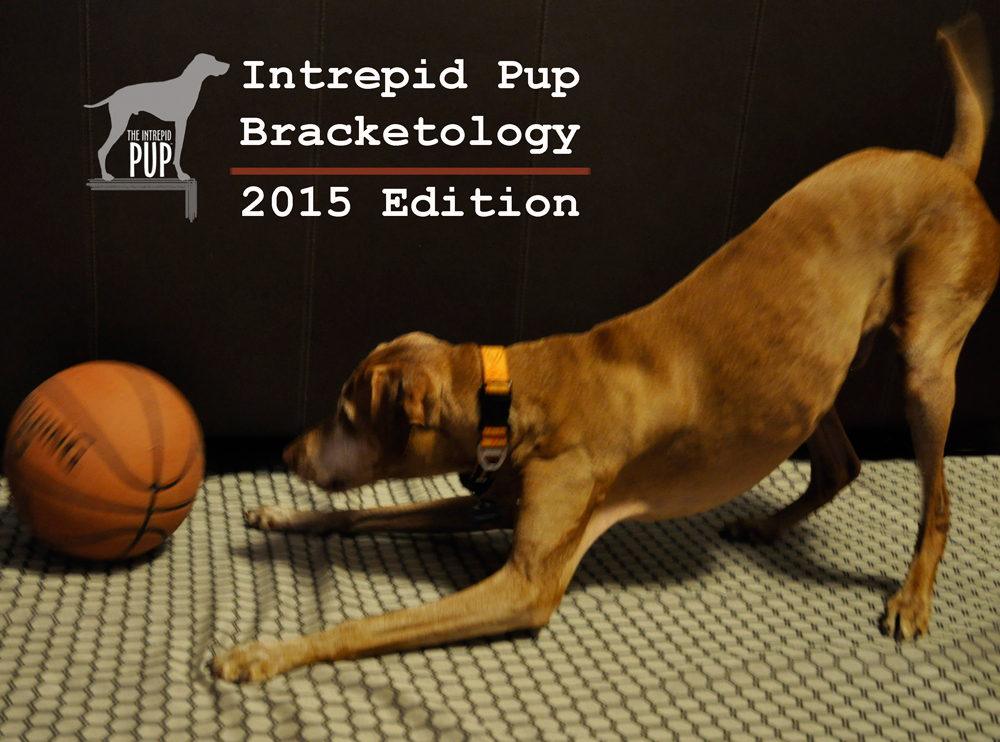 The treats came out, and the picks are in! For the fourth year running, Intrepid Pup Tavish has engaged in his own special brand of March Random(ad)ness to select who he thinks will be top dog in the 2015 NCAA Men's Basketball Tournament. On the all-important "Selection Sunday," Team Tavish happened to be out of the country, so the mantle of responsibility for facilitating Tavish's picks fell to extended family members. They had inquired whether there was any special technique required. Um, not really. As we've noted in past years, Tavish is consistently inconsistent. But so long as he's motivated (read: has treats) and is presented with clear choices, Tavish is swift and decisive. Our stand-ins reported that there was much excited barking and that our 18-year-old cat Hobbes assumed his traditional role as impartial observer, emitting a low rumble if the proceedings came too close to invading his personal space.
Wait no longer, Pup fans, behold the picks:
Cut to the chase, and you'll see that in Tavish's world, Georgetown will be the 2015 champs. While it remains to be seen whether the team can go the distance, there's no denying a great canine connection. Even though they're known as the Hoyas, among the school's earliest mascots was one heck of a tenacious bull terrier named Stubby. In 1917 this stray pup was rescued by Private J. Robert Conroy and smuggled aboard a ship bound for France to accompany the 102nd Infantry, 26th Yankee Division. Stubby ultimately saw action in 17 engagements throughout World War I. After nearly dying in a poison gas attack, he was so sensitized to the smell that he would warn troops of its presence. Also uncanny was his ability to find wounded American soldiers in enemy trenches; he would hone in on voices speaking English and then stand guard and bark to alert the medics. He buoyed morale by visiting troops in the hospital and even knew how to salute! General Pershing presented Stubby with a medal for heroism, and the dog went on to meet Presidents Wilson, Harding and Coolidge.
When Private Conroy returned from the war and eventually enrolled at Georgetown to study law, it went without saying that the much-decorated Stubby would go with him. The dog's celebrity status made him a shoe-in as Georgetown's living mascot. With Stubby's passing in 1926, the New York Times ran a half-page obituary. Stubby's taxidermied remains were ultimately donated to the Smithsonian Institution, where they are currently on view as part of The Price of Freedom exhibition at the National Museum of American History.
Over the years, Georgetown had other live dogs as mascots, including a terrier named Hoya, a Great Dane named Butch and a series of bulldogs. Today the bulldog mascot "Jack" remains, but it's a student in a dog costume.
GO HOYAS!