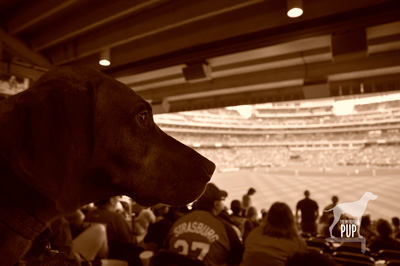 It's Opening Day for Major League Baseball 2012! For many, it signals a prelude to summer with baseball being the quintessential pastime, as American as Mom and apple pie. But did you know your dog can get a piece of the action, too? For the 2012 season, a record 16 MLB  franchises are welcoming dogs to their ballparks as part of regular season, individual game promotions. Kudos to the Astros, Athletics, Braves, Cardinals, Dodgers, Giants, Indians, Marlins, Mets, Nationals, Padres, Pirates, Rangers, Reds, Royals, and White Sox for embracing dogs and dog lovers among their fan bases!
Depending upon the stadium, the concept of ballparks going to the dogs gets billed under various monikers (Bark in the Park, Dog Days, Puppypalooza…you get the idea), but since Tavish the Intrepid Pup's home team is the Washington Nationals, we're featuring Pups in the Park.
This is the Nationals' fourth year catering to dogs, and the club has increased its number of Pups in the Park games to four for the 2012 season. Although all of Outfield Reserved sections 140-143 are designated for dogs and their human companions, don't delay in securing your seats as they do tend to sell out quickly. It's no wonder. It's a great event in a classy stadium—the first major pro stadium LEED Silver Certified by the U.S. Green Building Council—where cherry trees line the concourse, President mascots race, and the left field backdrop is the U.S. Capitol dome.
For everyone's safety and enjoyment, a few basic rules apply for Pups in the Park. Dogs must be on leash and can't outnumber the people in your party, and you'll be asked to sign a waiver with proof of your dog's current vaccinations in order to enter the ballpark. Stadium staff and event volunteers really do seem to have anticipated the dogs' needs. What is usually set up as the Family Picnic Area near Section 143 is converted to a water station and "relief" area for the dogs. Yes indeed, there's really a giant patch of artificial turf on which your dog can do its business. Sharing an Xtreme Loaded hot dog with your pup is your call, but since your dog can't accompany you to any of the concessions beyond the Pups sections, you can either leave your dog to enjoy the game in the stands with another member of your group or enlist temporary help from the legions of official Pet Sitters stationed at the landings. You'll absolutely kick yourself for leaving your camera at home, but if you do happen to forget, FanPhoto photographers roam the stands throughout the game. When they snap your photo for free, they'll hand you a card with a link to where you can review the photos afterward in an online gallery. Like what you see? With just a few clicks, you can order and pay for prints and other products imprinted with your game day images.
Just being in the stadium with hundreds of dogs is a blast. Given the sheer numbers, they're surprisingly quiet and well-behaved. They come in all shapes, sizes and breeds. Many sport their "Natitude" with Nats bandannas, jerseys, and other team-inspired red and white gear. As you might expect, there's  "pup"-ular dog-centric scoreboard entertainment and no shortage of  "Who Let the Dogs Out?" snatches played over the PA system. And you can't help but smile when you look out and see the backs (okay, and often the fronts) of dog heads intermingled among the rows of fans.
The extent of the Nats' Pups in the Parks promotions varies by game and sponsor, so check the listings to see what might be happening during your game. Our first Pups outing was a Nats-Marlins match-up last May. We were treated to the pre-game antics of Tillman the skateboarding bulldog and Norman the scooter-riding dog. Dick Van Patten's Natural Balance Pet Foods® was a sponsor (yes, the same Dick from Eight is Enough fame), so all the dogs received reusable totes filled with Natural Balance treats and swag. While we were waiting in line to enter, Natural Balance's spokesman, ten-time All Star and National League MVP Steve Garvey, put in an appearance and made an impromptu call for dogs from the crowd to show off their tricks. Tavish ended up being one of four dogs to perform for the future Hall of Famer (see photo)! Adding to the fun was that this was the one Pups game of the season to include a Pup Parade. There was no additional fee beyond the ticket price to participate; it simply meant getting to the stadium earlier than we would have otherwise. But it was well worth it to be ushered en masse through the tunnel onto the outfield warning track to circle the field before the game. With officials making sure we literally stayed on track (no rogue dogs tearing up the infield, please!), this was a view that relatively few outside baseball ever get to see or experience.
Look for the Intrepid Pup in the stands at one of this season's games. He'll be there. Go, Nats!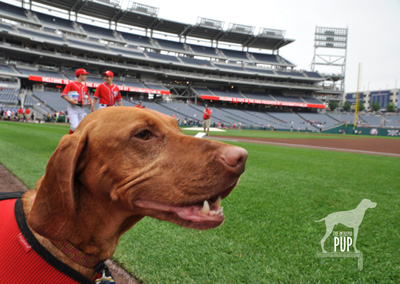 Dogging the Details
38°52'21.57″ N,  77° 0'26.09″ W
Nationals Park, Washington, DC
Pups  in the Park maxes out the Intrepid Pup's Wag-A-Meter at a rare "3" for being uniquely fun for canines and humans alike. This is a real treat!
When purchasing tickets online, don't just navigate to an advertised Pups in the Parks game date, select any seat, and assume you can bring your dog. Nope, it doesn't work that way. Though it might seem a bit less intuitive for first-time users, Pups tickets are actually sold under the web banner of GROUP tickets/Group Theme Games. In 2012 you'll be purchasing a $22 ticket for yourself and a reduced-price $8 ticket for your dog, the latter of which benefits the Washington Humane Society. Once you've purchased tickets online for one Pups game, chances are you'll be on the Nats' email list to receive updates about future ones.
Some extra tips:
Parking is ample, but fees directly correlate to proximity to the ballpark and can get pricey. The clear message here is to walk, bike (yes, there are numerous bike racks outside the stadium!), take Metro to the Navy Yard stop, board a bus, or hop a DC water taxi or one of the special Baseball Boats running a 35-minute cruise from Alexandria, Virginia. But if you're bringing your dog, you'll find that many of these either don't allow pets or require that they be crated, so you pretty much have to find a place to park and then walk. The Nationals website highlights the options, the least expensive of which (for an individual game, i.e. not part of a package deal of games/parking) are $10 and $15 parking lots about a mile away. Note that pre-paying for parking via the website does allow for the convenience of printing out your voucher at home but does carry an additional service fee.
Remember that DC summers are hot and, above all, humid. If your dog doesn't tolerate the heat well, select from the available Pups dates accordingly.
If you happen to be attending one of the Pups games that is preceded by a Pup Parade, note that you'll be lining up outside the stadium well beforehand. Be sure to have poly bags and plenty of water on hand. It can get warm standing in line with tons of other people and dogs.
Dogs of all sizes are welcome, but Team Tavish did observe a few of the larger breeds finding it a bit harder to get comfortable in their seats.