UPDATE: As of October 26, 2016, Arlington National Cemetery no longer permits leashed dogs, except for service animals and military working dogs.
The last place you'd expect to find serenity is among vacationing families, high school field trippers, and trams loaded with tourists. And you'd be right…except this is Arlington National Cemetery. Even without the discreet signage to "conduct yourself with propriety," most folks inherently realize that this is a place of honor. As such, you might pick up on the fact that there's no recreational jogging or cycling on the grounds, and a general hush prevails. It's a place that is at once peaceful but solemn, heroic yet tragic, both beautiful and brittle.
You don't see many dogs at Arlington National Cemetery, though they are expressly permitted (see "Dogging the Details" below). Not to anthropomorphize, but Tavish our Intrepid Pup clearly picks up on the vibe during our visits that these are times for calm and respect. Usually most content only when his leash is fully extended, here—and without command—Tavish invariably sticks at a close heel.
We initially avoid the bulk of the crowds by walking up the steeply sloping Custis Walk. It winds by the grave of President William H. Taft as well as past the tomb of Mary Randolph, the first person known to be buried at Arlington. At the top of the hill are two memorable sights: Arlington House and a stunning panoramic view across the Potomac River of Washington, DC's downtown monuments.
Quite simply, were it not for Arlington House, there would be no Arlington National Cemetery. The Greek temple-style house was constructed in 1802 by George Washington Parke Custis (1781-1857), who had been raised from infancy at Mount Vernon by none other than his grandmother Martha (Custis) Washington and her second husband George Washington. Custis intended for Arlington House to be both a family home and a tribute to his illustrious step-grandfather. Further cementing its place in history was the 1831 wedding in the parlor of Custis's daughter Mary Anna Randolph Custis and Lt. Robert E. Lee, son of Revolutionary War Hero Henry "Light-Horse Harry" Lee. The marriage united two prominent Virginia families. When Virginia seceded from the Union on April 19, 1861, Robert E. Lee resigned his commission from the U.S. Army the next day and sided with his home state. Lee's decision not only inexorably altered the course of the American Civil War but also cost him his home. To defend the nation's capital, Union troops made preparations to occupy the strategically situated Arlington House. The Lee family left in haste in May 1861, and when Lee's wife failed to pay property taxes in person, the home was confiscated. Government officials—interpreting Lee's loyalty to Virginia as an act of treason—further sought to ensure against the Lees' return by establishing a military cemetery on their land.  Lee's uprooted family would never again live at Arlington House, and Arlington National Cemetery was born.
Roads through the cemetery are named almost entirely for American military heroes (Pershing, Nimitz, MacArthur, Eisenhower, etc.). Following them takes you on an introspective journey among the cemetery's more than 250,000 graves. If you're of a certain age, the memorials for the crews of Space Shuttles Challenger and Columbia will hold special meaning. And if you're of another certain age, the eternal flame marking the grave of President John F. Kennedy will take you back to that fateful day in Dallas. Then there's the main mast of the U.S.S. Maine, erected in the memory of those who died in the explosion in Havana Harbor in 1898. Individual headstones honor the final resting places of veterans who also distinguished themselves in other arenas—folks like heavyweight boxing champion Joe Louis, Supreme Court Chief Justice William Rehnquist,  polar explorer Richard Byrd, and astronaut Gus Grissom. The iconic Memorial Amphitheater provides the backdrop for the Tomb of the Unknowns, and the changing of the guard ceremony will leave a lump in your throat no matter how many times you see it. Further afield is the Pentagon Group Burial Marker, a five-sided black granite memorial to those who died in the Pentagon or on American Airlines Flight 77 during the terrorist attacks of September 11, 2001.
It was here, on our most recent visit (this very Memorial Day weekend), that we were joined by a small group who had just pulled up on their Harley-Davidsons. One middle-aged women initiated conversation, explaining that she was in town for the Memorial Day Rolling Thunder activities that heighten awareness for POW/MIAs. "Best thing I've ever done," she said. She gestures in the direction of another woman, clad in a white leather biker jacket. "Do you see that lady there?" she asked. "She's a gold star mother. Her son died in Iraq in '03. We just came from visiting his grave." She tugged at the back of her own leather jacket to show us the patch that all her chapter members wear in his memory. A sobering moment.
And then there is Section 60.
The tenor of the cemetery perceptibly changes here from past to present. It's the only area in Arlington National Cemetery where placing mementos beyond traditional flowers is officially sanctioned. Here you see snapshots propped up against the headstones. Candles spelling out "Happy Birthday." A tethered heart-shaped balloon emblazoned with "I Love You." Here the emotional scars are still as raw as the ground where grass has yet to grow over, where—in some instances—a permanent marker has yet to be placed. The standard signage seen elsewhere in the cemetery gives way here to signs that read simply, "Funeral Route." Removed from the throngs is where Arlington is experienced at perhaps its most profound. Here is where the nation's war dead from Afghanistan are being buried.
Oddly, your visit to Arlington up to this point isn't quite adequate preparation for the visceral reality of Section 60, and it hits you like the proverbial ton of bricks. Ahead on the path, several rows in, we noticed a woman (a wife? mother? sister?) standing stock still before a grave where she had spread what appeared to be a red, white, and blue handmade quilt. We maintained a respectful distance so as not to intrude, and she was unaware of our presence. Yet, just as we were about to pass, she stirred, and in one fluid movement lay down upon the quilt, curling onto her side, eyes closed in a private, unspeakable grief.
Dogging the Details
38°52′34.59″N,  77° 4′13.83″W
Arlington National Cemetery, Arlington, Virginia
38°52′51.92″N,  77° 4′20.91″W
Arlington House: The Robert E. Lee Memorial, Arlington, Virginia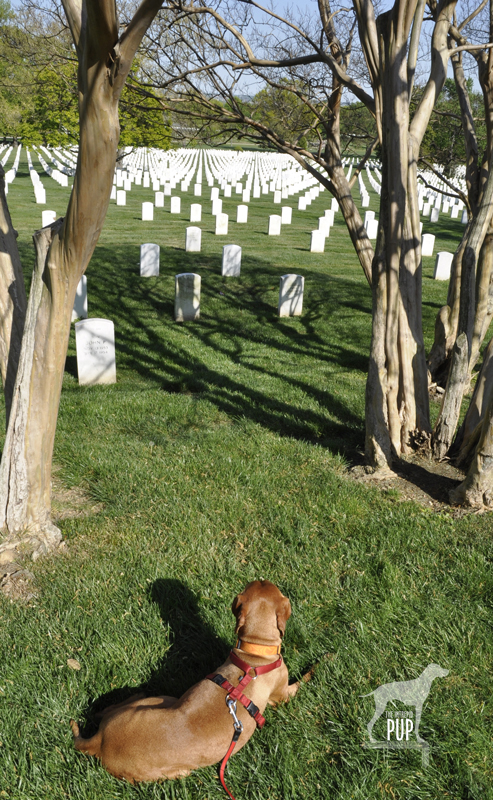 For as many times as we've visited Arlington National Cemetery over the years, it wasn't until a friend and fellow dog owner recently mentioned it, that we were aware that leashed dogs are allowed on the grounds. Unless they're service animals, they aren't permitted in the visitor center buildings or inside Arlington House.
The Cemetery's accessibility earns it a "1" on the Intrepid Pup wag-a-meter. The Cemetery has its own Metrorail  stop on the blue line and is regular destination on most guided tours of the area , but if you're coming with your pet, these aren't options. If you're coming on foot, you can reach the Cemetery's main entrance from the pedestrian trails that run over the Memorial Bridge and along Route 110 and the George Washington Memorial Parkway. Your best bet, however, is simply to park onsite at the Cemetery. There is ample vehicle parking in the paid lot off Memorial Drive, and rates are quite reasonable (currently, $1.75/hour for the first three hours and $2.50/hour thereafter). There is no admission fee to the Cemetery or to Arlington House. Once on the grounds, the Cemetery is extremely walkable, with well-marked paved drives and posted locator maps. Maps are also available from the visitors center. Be mindful that much of the cemetery's 624 acres is hilly ("Uphill in both directions!" we overheard one family remark), so plan accordingly and bring plenty of water for yourself and your dog. Temperatures, particularly in the summer months, routinely exceed 80 degrees. Though the sheer expanse of the grounds readily absorbs crowds, Arlington National Cemetery attracts upwards of 4 million visitors annually, so be prepared for lots of people at popular locations like the Tomb of the Unknowns.
Save