Every March, members of Team Tavish dutifully fill out their NCAA Men's Basketball Tournament brackets. It's a time of mild angst and giddy anticipation. Stats are weighed, websites consulted, gut instincts tapped, and alma mater loyalties tested. It's all in good fun but never has it resulted in a Team Tavish member actually winning an office pool or even securing temporary bragging rights. Alas, for all the data and firm convictions, inevitably there comes a point in March Madness when the outcome of a single day's games dashes all those careful selections asunder.
Old habits die hard, though, and Team Tavish members did still succumb to the individual rituals of bracket-picking this year. Nevertheless, it was also decided that it was time to introduce a new, less predictable, element to the mix:  Tavish, the Intrepid Pup. Forget hours of ESPN coverage, Sports Illustrated analyses, Selection Sunday, and the opinions of Dick Vitale and Digger Phelps. Tavish would have none of it, and he was going to make his picks his way. Let's just say that lots of dog treats were involved (specifically, Milk-Bone® biscuits and Milo's Kitchen™ Chicken Meatballs), but the process was otherwise as unbiased as could be. As proof, you're invited to watch this brief video (click link to view in YouTube or otherwise see below) of the Intrepid Pup making some of his selections:
Completing the brackets was done over the course of three days so Tavish would neither lose focus nor overindulge during any one sitting. While sports analyst wisdom prevailed in some picks, it more often seemed that Tavish had an affinity for, well…the underdogs. But hope springs eternal, and who doesn't love a Cinderella team? So if 16th seed LIU Brooklyn really does pull off the upset over  #1 seed Michigan State in the first round, then Tavish will likely be the only soul in the country to have predicted it.
Welcome to a world where Detroit goes to the Sweet Sixteen, St. Bonaventure advances to the Elite Eight, and Southern Mississippi breaks into the Final Four!
How do your picks stack up against the Intrepid Pup's? Enjoy the Madness!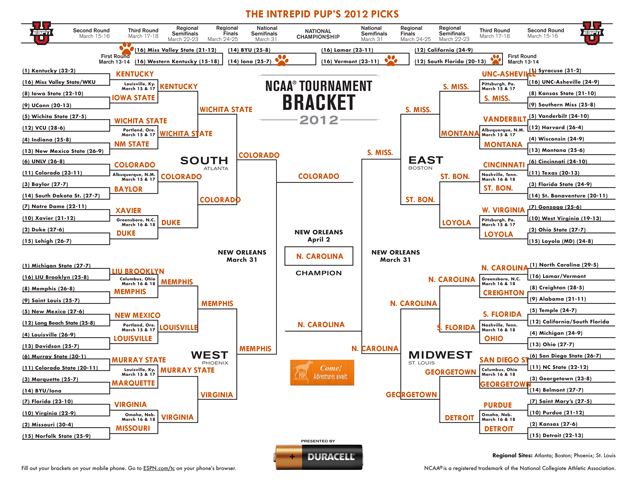 Save
Save