A 1st grader peeped his head around the door, turned back to his classmates and proclaimed, "Hey! The dogs are here!"
Tavish, the Intrepid Pup, was making his way through the corridors of Stanton Elementary this afternoon to attend a birthday party. Not just any birthday party, mind you, but one in honor of beloved children's book author Theodor Geisel (1904-1991), better known as Dr. Seuss.
Every year on March 2nd—Dr. Seuss' birthday—the National Education Association does it up big with Read Across America Day, a nationwide reading celebration involving schools, libraries, and tons of kids. Today's reading party at this DC public school was part of Stanton's community partnership with People. Animals. Love. (P.A.L.), which runs PAL Club as a year-round, animal-centric enrichment program.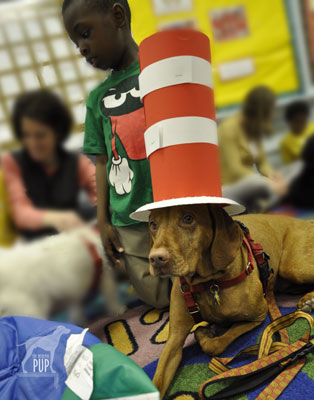 The classrooms were hives of activity. 130 kindergartners through 5th graders could barely contain their excitement. Tavish's role, along with five other dogs, was to "help" with the final after-school activities of the day. Tables were cleared to make way for scissors, staplers, paper plates and construction paper. The result? "Cat in the Hat" hats, of course! And then, armed with Dr. Seuss bookmarks, there was the chance to choose from an array of Dr. Seuss storybooks. Grinning from ear to ear, young Cheyenne* plunked down on the brightly spotted carpet to read Yertle the Turtle to Tavish, and it wasn't long before her friends had gathered around. Out came Oh, The Places You'll Go! Dante threw his arms around Tavish's neck with glee. Next up was Dr. Seuss's A B C, and D'Antwan balanced a red-and-white-striped Dr. Seuss hat on Tavish's head. What fun it was to see the world momentarily come to a standstill and be all about Star-Belly Sneetches, the Lorax, Sam-I-am, and Horton, with kids giggling at the nonsense words. Pointing at the illustrations. Enjoying reading.
So, blow your floofloovers and bang your tartookas, spin your trumtookas and slam your slooslunkas!**
Happy Birthday, Dr. Seuss!
*Children's names changed to protect privacy
**Excerpt adapted from How the Grinch Stole Christmas.